विद्या ददाति विनयं, विनायात याति पात्रताम् ।
पात्रत्वाद धन माप्नोती , धनात् धर्मं ततः सुखम् ll
After gaining "Vidhya" one attains spirituality, hard work, patience, peace, empathy etc. Whereas when a person gains knowledge he/she only attains ego and overconfidence.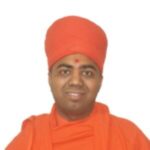 I believe in upholding high standards with an absolute commitment to strive to understand and improve the educational process using team strategies, while wholly centering on students achievement.