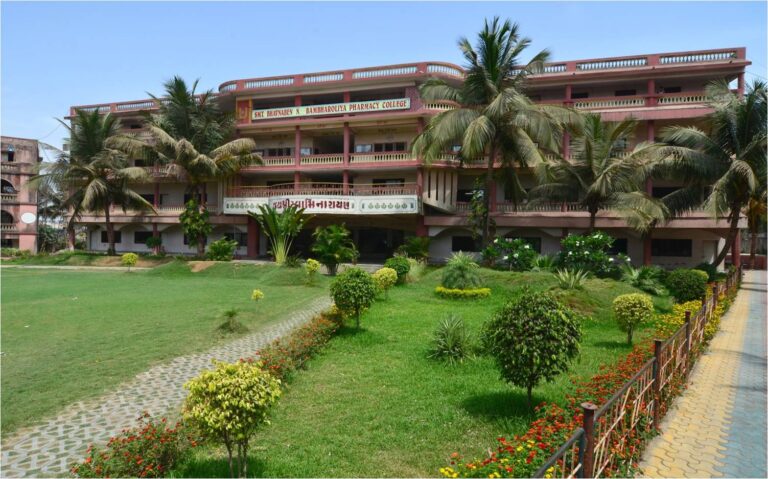 "IT IS NOT WHAT WE GET, BUT WHO WE BECOME,
WHAT WE CONTRIBUTE THAT GIVES MEANING TO OUR LIVES."
To achieve higher learning there is a need of Inspiration. With the divine inspiration and blessings of Lord Swaminarayan and Pujya Swamiji, Smt. B.N.B.Swaminarayan Pharmacy College, Salvav, Vapi was started in Year 2006 by Shri Swaminarayan Shikshan Seva Kendra trust. Shree Swaminarayan Shikshan seva Kendra trust was established in year 1983 with the noble thought to educate the people of this region.
B.N.B. Swaminarayan Pharmacy College, Salvav, Vapi stands as one of the top Pharmacy college of Gujarat under the pioneering efforts of Pujya Kapil Swamiji and hard-working Team under Academic campus director Dr. Shailesh V. Luhar and Administrative campus director Mr. Hiten B. Upadhyay and Principal Dr. Sachin B. Narkhede, who dreams big and translates it into reality by syn the sizing the ideal so four ancient culture with modern technical education.
The institution offers Bachelor of Pharmacy(4years) and Master of Pharmacy (2years) specialization in subjects Pharmaceutics and Quality assurance. The college is approved by Pharmacy Council of India(PCI), New Delhi and All India Council for Technical Education(AICTE), New Delhi an college is affiliated to Gujarat Technological University (GTU).
B.N.B. Swaminarayan Pharmacy College, Salvav Vapi has committed itself to become a center for quality based Pharmaceutical education and research. The college works with an objective to support and strength en the health care sector of our country.
The college is situate dat Salvav, Vapi; 48 and has good travel connectivity with nearby cities like Valsad and Vapi. Vapi is one of the hubs for the growing pharmaceutical industries, so our college likes to be a good career for students for enter in gin the pharmaceutical globe. Our campus has spacious area with lush green garden, divine weather, with spacious building with all educational and technical facilities.